Alpha Phi Omega Chapters: Mobile Check-in is only available for chapters with Diamond Level Subscriptions
Is your chapter so large that taking attendance is becoming an issue? With mobile check-in you can easily allow your event attendees to use their mobile devices to check-in to your event once they are at the location (uses GPS to verify location).
To enable event check-in
When creating (or editing) an event enter a valid street address in the location field. Note you must select a location from the Google Maps Search Results drop-down for mobile check-in to be enabled.

Then in the Advanced Options section, check the option for Mobile Check-in.

Now your event is enabled for mobile check-in!
How to check in as an attendee
Once attendees arrive to your event's location they can log in to your chapter's website using their mobile device, navigate to the event details page, and tap on Check In under their name to validate their attendance:
Recording attendance for a mobile check-in event
For event coordinators, when you are in the process of completing this event, you will see a checked-in badge next to all attendees that have checked-in to your event: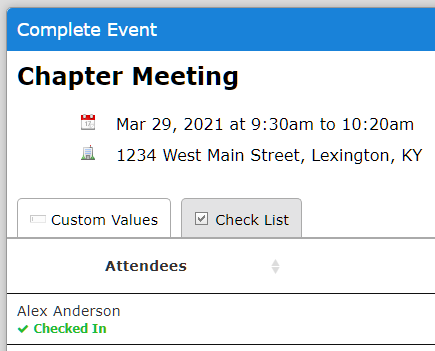 Be default, only members that have checked in will receive credit for attending this event. If no know someone was in attendance but forgot to check in, no problem. You can manually enter their credit in the box next to their name.