Welcome to GreekTrack!
GreekTrack is an online chapter management system that helps chapter's like yours manage its members, events, finances, attendance records, and much more.
Overview
Your chapter's GreekTrack site is divided into two websites:
Your public website
You chapter's public website is used to express your chapter's culture complete with a custom homepage, photo albums, blogs, and unlimited web pages.
Clicking on the gold key in the upper-right corner will take you to your chapter's internal members-only website.
Your private members-only website
Your chapter's private internal site is used to post your chapter's events, pay and manage dues, track meeting attendance and minutes, and much more.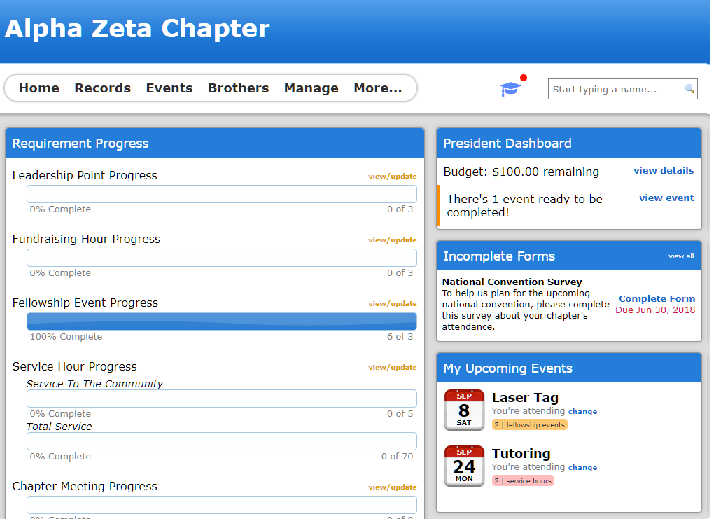 From your chapter's members-only site you will be able to see your requirement progress, sign up for events, pay your dues, and look up your fellow member's information.
Chapter Officers
As a chapter officer it is your responsibility to set up your chapter's GreekTrack site to match your chapter's by-laws as well as to keep the event calendar full with exciting events for your membership.
To get started read: Setting up your chapter's GreekTrack site >>
Other Chapter Members
As an active, potential new member, or any other type of member, your chapter's GreekTrack site is where you'll be able to see all the events that are going on in your chapter. You'll also be able to pay your dues online (if enabled), compete in your chapter's leader boards, and work toward your chapter's achievements.
To get started read: Signing up for an event >>